As you may have heard, there have been earthquakes in Indonesia recently. It occurred in our case study area in Cianjur, West Java. To date, several dairy farmers were reported to have had their houses damaged by the earthquakes.
We are currently collecting donations to help the farmers. We would like to invite you to join the fundraising. Able to contribute to the fundraising? Please contact our PhD candidate Achmad Fadillah for more information (achmad.fadillah@wur.nl).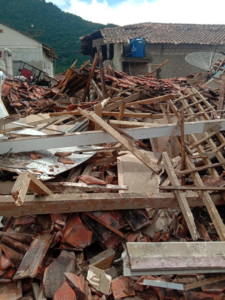 The earthquake caused damage to the farmhouses and cow pens of several dairy farmers (see some pictures below). Your gift may help these dairy farmers fix their houses and get back on track. Our representatives are in touch with the dairy cooperative and dairy farmers to deliver the donations of the fundraising. Smart-in-Ag PhD candidates Ibnu and Ngakan will visit the cooperatives and dairy farmers soon.